Your computer is equipped with the following:
A 1/8-inch (3.5-mm) diameter external monaural microphone jack.
A 1/8-inch (3.5-mm) diameter stereo headphone or an external-powered speaker jack.
A 1/8-inch (3.5-mm) diameter stereo line input jack.
Your computer also has an audio chip that enables you to enjoy various multimedia audio features. This audio chip provides the following features:
Recording and playing back of PCM and WAV files in 8-bit or 16-bit format.
Sampling of various rates from 8 KHz to 48 KHz for the WAV file.
Playback of MIDI files through an Wavetable synthesizer.
Recording from various sound sources, such as an integrated microphone, an external microphone, or an audio device attached to a line-in jack.
Game compatibility. You might select Sound Blaster for the audio adapter in the sound setup for a game.
Your computer has two ways to control the volume: The hardware-controlled volume changes the system's base volume, and each device can control the software-controlled volume.
Your computer provides volume control as part of its hardware--for example, with a volume control knob. If your computer does not have a volume control knob, you can control volume by holding the Fn key and then pressing either the PgUp (

) key (to inrease volume) or the PgDn (

) key (to decrease volume).
| | |
| --- | --- |
| Note: | The value you set with the volume control knob or the Fn + PgUp or PgDn key combination is the maximum or minimum value of the total volume. |
For more information about your computer

User's Reference.
You can also set the volume for each device.
You can do either of the following:
Either
Customize the volume in the volume control window that appears when you click the small speaker icon (

) at the bottom right of the Windows desktop.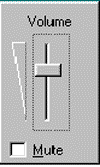 or
Click Start; move the cursor to Program, Accessories, Entertainment; and click Volume Control.
A "Master" window similar to the following appears: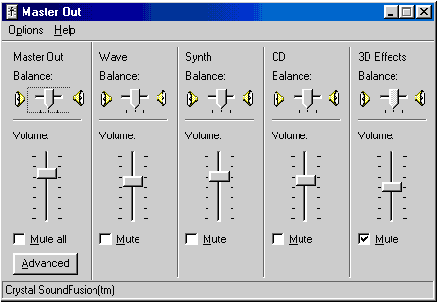 After you make any changes you wish to make, exit the "Master" window.
| | |
| --- | --- |
| Note: | Dock In and ZV Port are set to mute by default. To use these functions, clear the check boxes. |
| | |
| --- | --- |
| Note: | This function is supported only by Windows 98 and Windows 95. |
The "Crystal SoundFusion(tm) Properties" window is used to control audio capabilities and settings. To open the "Crystal SoundFusion(tm) Properties" window, do the following:
Click Start.
Move the cursor to Settings and click Control Panel.
Double-click SoundFusion.
or
On the task bar, double-click the blue icon with SF.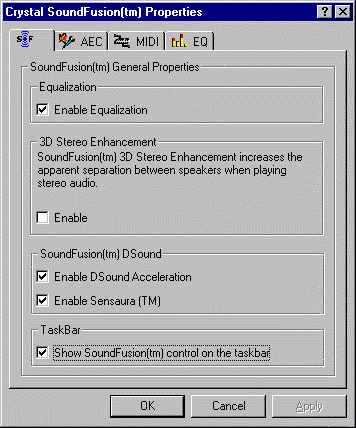 Equalization
Selecting this check box enables the 10-band graphic equalizer, which can be found under the EQ tab.

Graphic equalizer (EQ).
3D Stereo enhancement
The SoundFusion 3D Stereo Enhancement increases the apparent separation between speakers when digital stereo audio is played. Selecting this check box enables the 3D Stereo Enhancement.
Note: Selecting the check box might cause some distortion.
SoundFusion DSound
The SoundFusion acceleration of DirectSound 3 Dimensional (DS3D) audio provides a better-sounding application with more processor cycles available for doing such tasks as 3D video generation, which allows faster video frame rates for smoother game action.

| Enable Dsound Acceleration | Enable Sensaura | Result |
| --- | --- | --- |
| | | DS3D support is provided by software. Hardware acceleration is turned off. |
| | | DS3D support is provided with hardware acceleration with improved sound quality. More processor cycles are available for other tasks. Use this setting for most applications. |
| | | DS3D support is provided by software with EAX and A3D support and more realistic 3D sound for those applications that use it. |
| | | DS3D support is provided by hardware acceleration and includes Sensaura technology for more realistic 3D sound for those applications that use it. |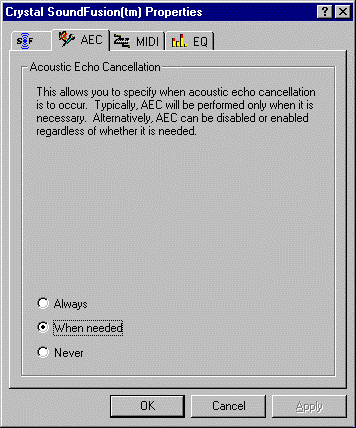 Hardware-accelerated acoustic echo cancellation (AEC) reduces the possibility of feedback when audio is used for applications that require voice input and speaker output such as NetMeeting.
If you check Always, AEC is always running regardless of the audio application being used. Use this setting if you are using an application that needs AEC, which is not automatically detected.
If you check When needed, AEC is automatically turned on if the function detects an application that needs it.
If you check Never, AEC is disabled.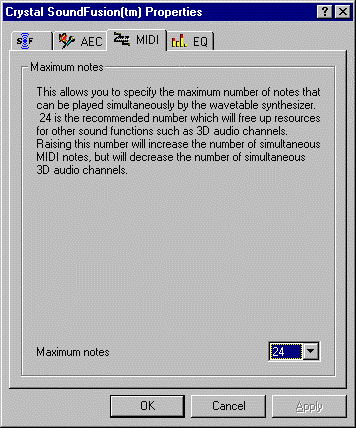 The Maximum notes setting enables you to specify the maximum number of notes that can be played simultaneously by the wavetable synthesizer. Raising the number increases the number of simultaneous MIDI notes, but it decreases the number of simultaneous 3D channels.
You can use the graphic equalizer to create a more pleasing tonal balance according to personal taste on digital audio playback. To hear the results, click Apply after making slider changes.